Do you have any projects around your home that you have put off because you thought it would take too long to do? For me, it was our dining room. It became our storage room for odd things around the house that I moved out of the other rooms as I designed them. So, although I knew it wouldn't take too long to transform this space once I moved everything out, overall I kind of built it up in my mind and made it seem harder than it actually was.
After spending only a few hours to paint this space and a few more hours to hang photos and such, this room was 98% finished. After seeing the space now, I totally wish I would have finished this room sooner! Scroll below for some crazy before and after photos! (There's also a snippet at the end about what changes I still want make in here to fully finish this room)!
This is what the dining room looked like when we moved into our home in 2012…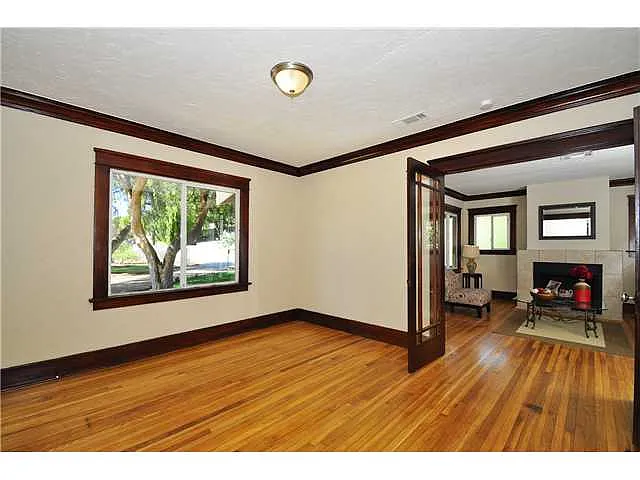 Since then, our dining room has seen a few iterations, like this one below.
Our dining room was "fine", but "fine" wasn't really what I was going for, especially since I knew it could be totally AMAZING by simply rearranging a few things and slapping on a coat of paint.
This is what our dining room looked like a week ago. Granted, I forgot to snap a photo before moving the furniture to the center of the room, but I'm sure you get the gist.
I'm not quite sure how I managed to talk my mom into helping me paint the dining room two days after Christmas, but I did and she did AMAZING! I couldn't have done this without her! Thanks again, Mom! Love you.
It was right around the time that I snapped this photo when I was thinking about driving to Home Depot to pick out a different paint color. I was not liking what I was seeing at all. This color was looking much brighter than I had hoped, but luckily it dried to the dark gorgeous color you will see in the photos below!
And without further ado, here is my awesome new dining lounge (Yes, I made that name up, but it totally works, right?!)
My pup, Mr. Darcy, follows me everywhere and tries to help with projects, so you will probably see more of him as I show you more finished spaces.
So again, a little before and after.
Other things I still need to do in here- I bought a chandelier I want to hang or use the base to make my own, paint the window frame black, and vacuum and layout the carpet and rug pad.
One word of advice, don't do what I did! I waited waaaay too long to paint this space and make it what I wanted. Just get out there and do it and see what happens.
I will post another article with all the paint colors and a few other items and where to buy them!
Until next time, make life beautiful!
Sincerely,
Linds